SEOUL, Dec. 07, 2022 — Kakao Entertainment today announced results from its second white paper, detailing its efforts to root out the illegal mass distribution of webtoons and web novels online. The white paper looks back at results from April to November, which include the takedown of 6.88 million cases of illegal content from global search engines and social media platforms.
In addition to cracking down on pirated webtoons – the primary focus of the first white paper – the second edition looks at the removal of illegally translated and distributed web novels as well. The task force spearheading the campaign also expanded its efforts in China, taking down over 1 million pieces of content and establishing local measures to systematically tackle copyright infringement of Kakao Entertainment's intellectual property.
"It's good to see the work that we're doing through this dedicated team is helping increase public awareness about the issue," said Lee Hojun, Kakao Entertainment's chief legal officer and head of the task force. "Illegal content on these websites both in and outside of Korea are difficult to tackle only through technical means such as AI technology. We need to use a powerful, multifaceted and systematic approach, and we're hoping this white paper will have a positive impact on the industry and ultimately help content creators."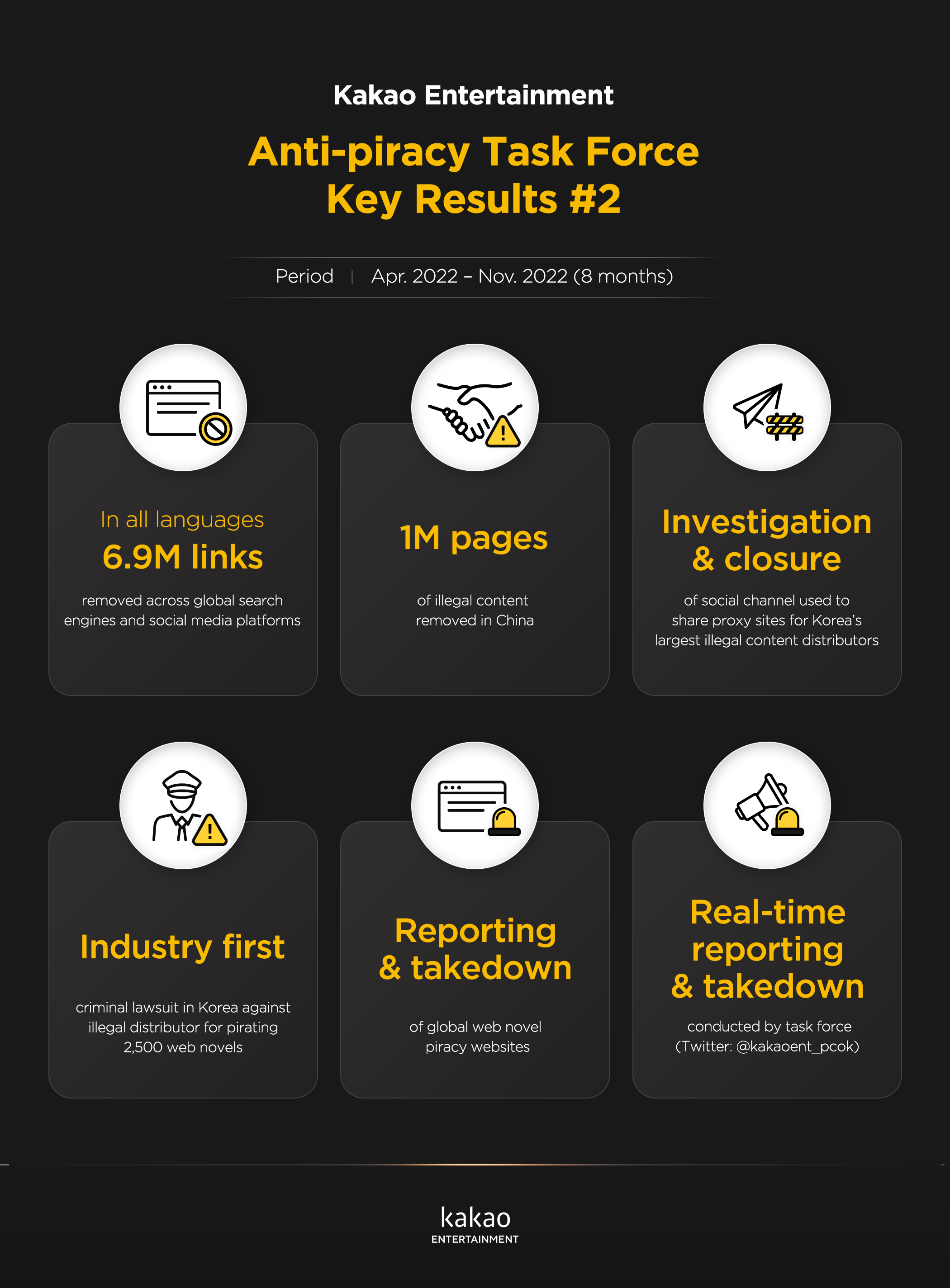 Over the past eight months, the task force has monitored global search engines and expanded its reach to China by monitoring Chinese portals and aggregating a database of illegal distribution websites for Chinese-speaking regions. The team also conducted undercover operations to join illegal distribution channels and expose their illicit activities. These efforts have led to pledges from such groups to halt the illegal translation and distribution of Korean content.
The second white paper also underscores the task force's response to illegal distribution of web novels. In July, Kakao Entertainment gathered evidence against a collection of 2,500 pirated web novels distributed from a single website and filed criminal charges against the site's operators – the first such move in the industry. The company also reported numerous local and global websites and organizations, which helped halt the distribution of illegal content.
The task force was launched in November of 2021 to root out the underground distribution of illegal content, with dedicated teams in English, Chinese, and Indonesian speaking regions monitoring and blocking the distribution of pirated content in real time. Key results from the first white paper can be seen here.
Also active on social media, the task force continues to receive reports from users worldwide on pirated content. For more details on how to report illegal content, visit this page.