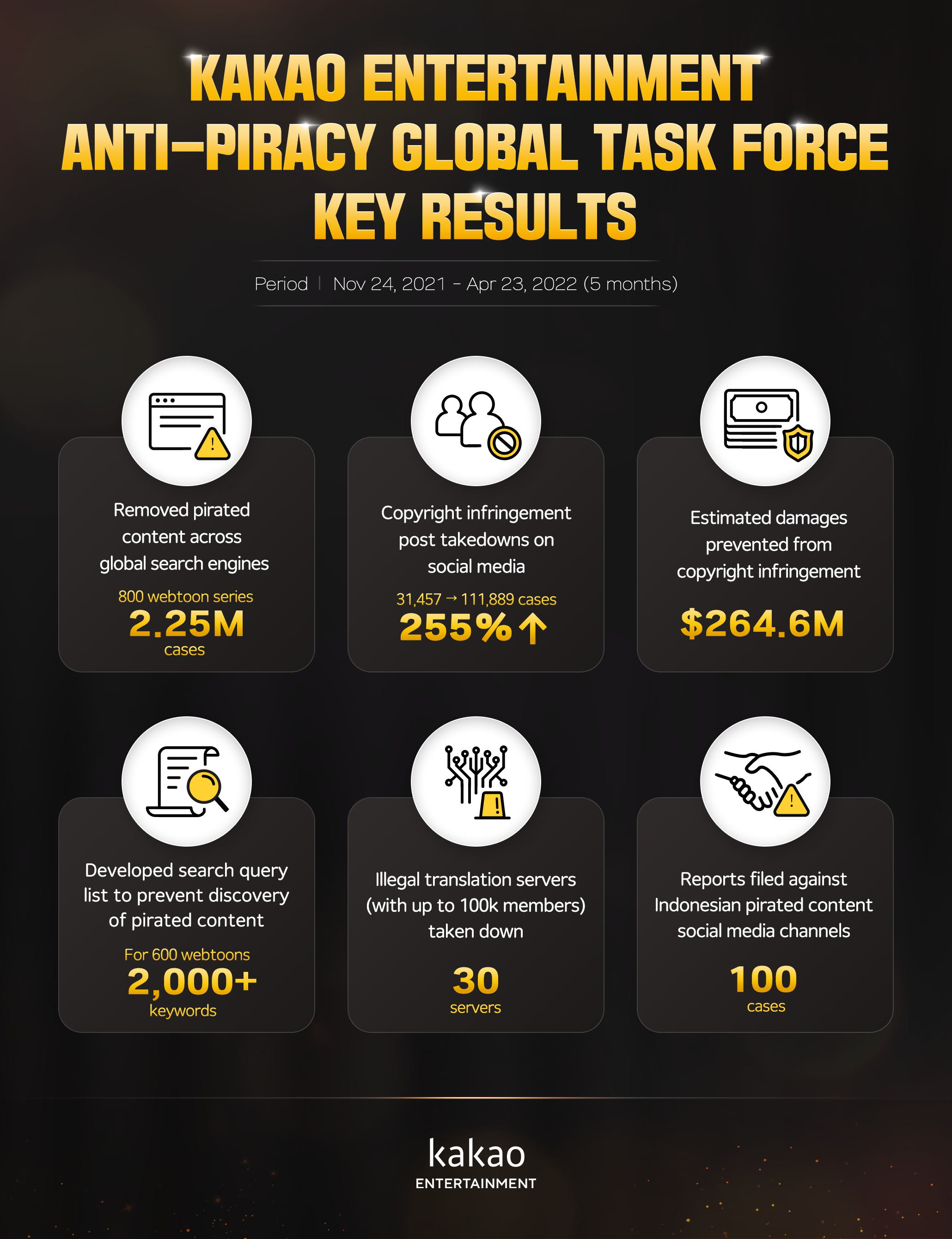 SEOUL, June 7, 2022 — Kakao Entertainment today released a white paper detailing its activities to tackle pirated webtoons distributed illegally on online platforms worldwide. Having established a dedicated task force in November last year, the company has specialists monitoring for such illegal content in English, Chinese, and Indonesian. As a result, it has taken down 2.25 million pirated episodes, preventing losses estimated at 265 billion won.
From November 24 of last year to April 24 of this year, Kakao Entertainment's Anti-piracy Global Task Force has monitored global search engines, such as Google, Yandex, and Bing, for 800 major webtoon titles. It has also blocked 2,000 search terms that can lead to pirated content as well as over 111,000 cases of illegal distribution on major social media outlets. This is an increase of 255 percent compared to before the task force was formed.
In addition, the task force identified illegal translation groups and servers hosting pirated webtoons. It reported roughly 100 cases of large-scale pirated webtoon distribution conducted in Indonesia as well as 30 servers hosting illegal translation services that involved up to 100,000 people. Some of these servers have been shut down as a result.
The 60-page white paper outlines details of these achievements and how the task force will further enhance its efforts going forward. Data from the white paper will be used to engage global copyright organizations, law enforcement and administrative bodies both in Korea and abroad. The group is working closely with Korea's Copyright Overseas Promotion Association (COA), Korea Webtoon Industry Association (KWIA), and other related government agencies to discuss ways to root out copyright infringement of webtoons.
"Thanks to the proactive measures that we've taken at the task force, we've seen an increasing number of translation groups that have declared that they will no longer participate in illegal translations, as well as global readers who have vowed not to read or download illegal content," said Lee Ho-jun, Kakao Entertainment's chief legal officer and head of the anti-piracy task force. "We'll continue to focus on measures to protect the rights of our creators as well as the global webtoon industry by expanding the number of languages we monitor and taking additional measures."
The potential losses stemming from pirated webtoon distribution amounts to roughly 6.66 trillion won, according to a 2020 survey conducted by Korea Creative Content Agency. Seeing the disruption and damage this causes to the webtoon industry, Kakao Entertainment has for years been actively seeking ways to eradicate illegal distribution of pirated webtoons, in some cases filing lawsuits against players involved. Last October, it spearheaded the creation of a Webtoon Illegal Distribution Response Group, which consists of eight webtoon platforms, with the goal of wiping out illegal distribution.
To build awareness of the issue in and outside of Korea, the task force is also active on social media, establishing a dedicated account on Twitter (@P.CoK, acronym for Protecting Content of Kakao Entertainment). The account will be used to receive real-time reports from global readers about illegal distribution and provide updates on the task force's latest activities.